Made to Measure Outdoor Blinds and Fabric & Aluminium Awnings
As one of the most trusted awning, blind and roller shutter companies Brisbane, Ipswich and Gold Coast homeowners rely on, you can rest assured all the privacy and shade solutions from Shaderite Blinds are of the highest-quality and backed by excellent warranties. Shaderite Blinds has been proudly been supplying Brisbane and Ipswich with a wide range of made to measure outdoor blinds and external awnings since 1961 and have branched out into the Gold Coast blinds, awnings, and roller shutter market as of 2021.
The wide selection of external blinds and awnings come in a choice of aluminium or fabric, and offer consumers the ultimate in usability offering the latest in automation with smart technology.
Take a look at through our range below, as leading Brisbane awnings suppliers, we offer a comprehensive choice of styles will give all the inspiration you need to give your home a sophisticated, timeless appeal whilst providing added comfort by protecting from the elements.
An Overview of External Shade Solutions
The fabric awnings and manual and automatic blinds, Brisbane, Gold Coast and Ipswich selection includes:
Alpha Awning Series, Channel Roll-Up Blinds, Crank-IT Channel External Blinds, Folding Arm Awnings, and System 2000 Awnings.
The external aluminium awnings in stock are:
Kool 'D' Sun, All Weather Patio Awnings, Sunlander Awnings and Filtalite Aluminium Louvre Awning.
Ask our roller shutter, awnings and blinds company Brisbane team for clarification on which are available as automatic blinds and automatic awnings, and which products are only available as manually operated. Various colour options are also available for each product so if you have a preference, please request colour chart information when you contact our awning and blinds company. If you'd like information regarding outdoor awning or window blinds installation, please don't hesitate to ask.
Alpha Awning Series
This is a stylish, robust and energy efficient, modern awning solution which comes in a variety of colours and is made of clear PVC fabric. It is ideal for windows, balconies, alfresco spaces and pergolas, and it features 5 matching awning styles to choose from including Pivot Arm, Deep Channel, Cable Guide, Straight Drop, and Side Retention System. As an added bonus, it also features diverse operating options from basic crank systems to fully motorised awnings.
Channel Roll-Up Blinds
These external, vertical blinds are made in Brisbane with a thick fabric that blocks in and circulates air within a space effectively. Channel Roll-Up Blinds are a popular choice for homeowners who use outdoor fan systems because you can keep the cool air circulating in the outdoor space without it escaping. Perfect for the Australian Summer climate.
Crank-IT Channel Outdoor Blinds
Crank-operated roller blinds like this one remove the need for chain and cord pulley systems, relying instead on crank operation. The outdoor vertical blinds are easily raised and lowered by turning the crank handle as the channels allow the bottom rail to travel up and down very smoothly. The handle can be removed entirely when not in use. Such outdoor blinds are ideal for areas that need protection from the sun and wind.
Folding Arm Awnings
If you are looking for the best retractable awning for sturdy all weather protection, this is it. These types of retractable external fabric awnings are essentially integrated wet weather hoods ideal for shading windows and outdoor entertainment areas from the rain and sun. Such outdoor awnings are perfect for patios, decks, pergolas, and pool areas.
System 2000 Awnings
These external fabric awnings are technically superior and aesthetically unique having won the prestigious Australian Design Award in previous years for their superior materials and functionality. The 2000 series of automatic awnings is highly effective in preventing heat gain through home windows as they stop heat from reaching the window glass.
Kool 'D' Sun Aluminium Awnings
These external aluminium awnings are perfect weather protection for windows, patios and balconies. Also available as curved awnings, they use a special vertical ribbed panel design of alternating narrow and wide panels similar to that of our all weather patio awnings.
All Weather Aluminium Patio Awnings
The traditional type of external awning, the Patio Awning is a sturdy, hard wearing, corrosion resistant shade and privacy solution made from high-quality aluminium. They require minimal maintenance and upkeep and use interlocking vertical panel design to provide superior weather and rain protection. Ideal for large exposed balconies or patios, as well as windows.
Sunlander Aluminium Awnings
Sunlander external awnings are waterproof at a 20 degree pitch and boast clean lines and an attractive understructure. This type of weather and shade solution features horizontally striped panels and provides ideal weather protection for windows, balconies and patios. Such economical and popular outdoor awnings make for a great full side feature on almost any house.
Filtalite Aluminium Louvre Awning
Combing both privacy and heat reduction advantages, this is a type of horizontal louver awning is installed in front of a door or window, or as protection on the side of an exposed facade area. This outdoor aluminium awning is available with fixed or adjustable awning blades that can be moved using a hand crank which is fitted internally or externally. Choose from a range of colours from earthy tones to bushy natural greens.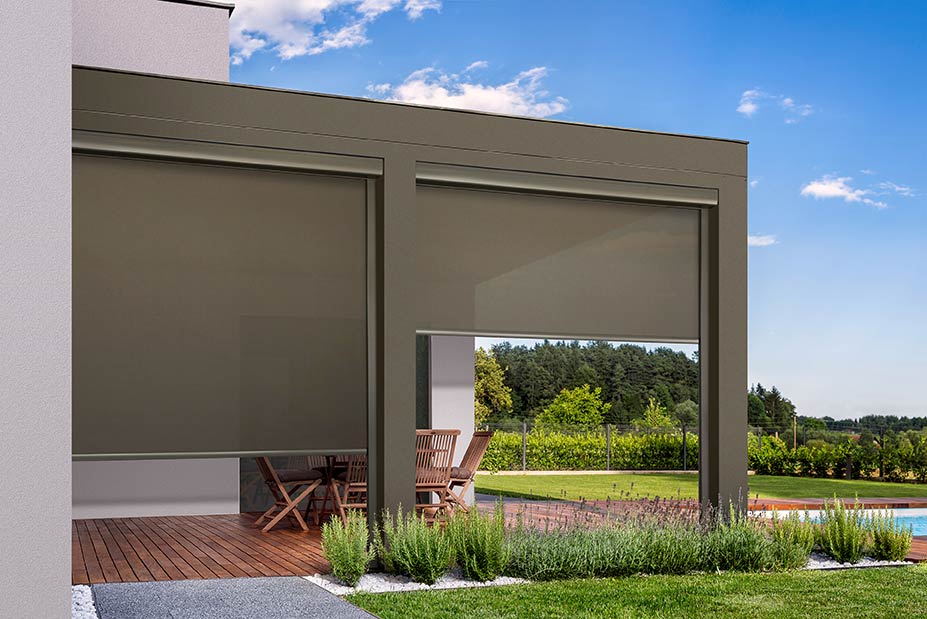 Automatic Blinds, Shutters & Awnings
In todays fluent and fast paced world our clients are requiring simple and user friendly approaches to shading. Automation offers consumers the ultimate in usability at their fingertips, whilst maintaining the practicality of their chosen product.
Please read more about which motors are available with a hard wired switch or remote control.
Need advice selecting the right Blind, Shutter or Awning? Call us now on 07 3267 6444, or